If you are an active user of Ubuntu's notifications, for example via lintswitch you may of noticed that they have two key problems, which are easily solved: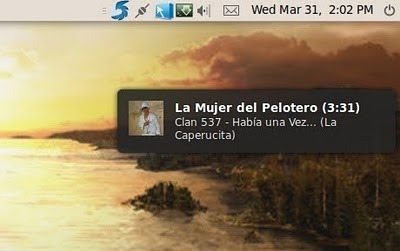 They appear in a strange place, which you can't change.
Only one gets displayed at a time.
Both of those are easy to fix by simply enabling Gnome's notification system. Ubuntu provides a package to do this, called gnome-stracciatella-session.
Don't be put off by the language claiming to "remove Ubuntu specific modifications" – the only two modifications are the notifications, and a modified shutdown button (which we'll fix).
Install
sudo apt-get install gnome-stracciatella-session

Activate
Log out
At the login screen, select your user, but don't enter your password yet
At the bottom center of your screen select "Gnome (without Ubuntu specific notifications)"
Log In
Your notifications should now:
Be in a sensible position:

Allow several on the screen at once: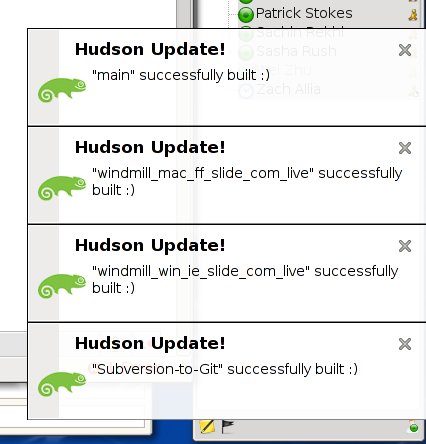 Lock / Log Out / Shutdown buttons
You may of noticed that your shutdown button has gone. That integrated button was the other Ubuntu specific modification that gnome-stracciatella-session removed. It's easy to add the buttons you need:
Right click on the top bar, select "Add to Panel…"
Select and Add the Lock Screen, Log Out and Shut Down buttons.
Right click your clock and unselect "Lock To Panel". Do the same for other things up there.
Right click the Lock Screen button, select move, and slide it to the far right. Do the same for the other buttons.
Lock To Panel the ones you unlocked, and your new buttons.
You can even change the notification balloon's position.
Eh voila! Happy notifying.
PS: I'm aware of the ongoing Ubuntu / Gnome debate. I know why Ubuntu's notifications are in, as I said above, "a strange place". I have enormous admiration for both the Ubuntu and Gnome teams. For my current needs, Gnome's notifications work better.